touring & backcountry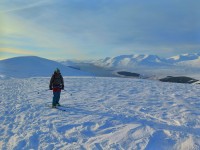 • View Photos •
:: Tour Route(s) or Location Skied/Ridden
Geal-charn and A'Mharchonaich from Balsporran Cottages.
:: Weather Conditions
Bluebird! -9.5 degrees C in the car park. Fairly light winds.
:: Snow Conditions and Distrubtion
A surprisingly good snow depth on most aspects. Hardly hit any rocks at all. Able to ski all the way to the car park. Some scoured areas and sastrugi. A mixture of soft snow, surface hoar and windblown broken crystals forming crust/slab.
:: Skiers/Riders
Tom and Liam
:: E-Mail Contact
tomrowntree at hotmail dot com