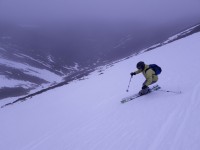 • View Photos •
:: Snow Cover
Limited Terrain Complete/Open.
:: Surface Conditions (out of 5)
3
:: Weather Conditions
Dense for. Freezing level around mid station level.
:: Snow Conditions & Info
Patchy cover/strips below mid station. Ok for skinning up
from Gunbarrel; cover very good from bottom of Traverse. Difficult descending in thick for from top of Ptarmigan snow - zero visibility and definition, with drifts. Ciste and East Wall excellent cover - White Lady was pick of the day.
:: Riders
Mountainaddict and Mrs Mountainaddict
:: E-Mail Contact
alan dot crawford65 at gmail dot com