Posted by:
Skicadets
at 18.14hrs on Sat 2nd Dec 17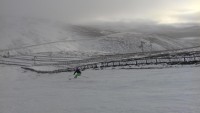 • View Photos •
:: Snow Cover
Mostly Skiable - Some Areas Thin/Narrow
:: Surface Conditions (out of 5)
4
:: Weather Conditions
Overcast to start off then sunny for a few hours then overcast and drizzle to end off the day. Temp 2+
:: Snow Conditions & Info
Very good cover all around. Best runs were the face and snowy owl. With the wind blowing right up the buzzard (pardon the expression!) the speed possible was reduced but surface still good. Clearly some work has been put in on the bases to compress and made for smooth sliding. By the end of the day the ground was showing thru in between runs but pistes intact.
:: Riders
Skicadetsx2
:: E-Mail Contact
irdabloomers at gmail dot com
Report Edited Once. Last edited by Skicadets: 2017-12-02 21:14:41