you report it! // public reports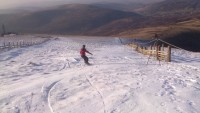 • View Photos •
:: Snow Cover
Limited Terrain Complete/Open.
:: Surface Conditions (out of 5)
3
:: Weather Conditions
Bluebird, snowline at 600m / 2,000ft. Temperature at 9am at the top of the tow (710m) -1C. Temperature at 12pm: +2C.
:: Snow Conditions & Info
Lowther Hill tow opened for members only (Lowther Hill season pass holders). Thin but crusty, unpisted, enough cover for a good slide at the upper half of the slopes, turning grassy towards the lower half. The tow's upline was complete thanks to the recently erected snowfence.
:: Riders
Anjo
Report Edited Once. Last edited by LowtherAnjo: 2017-02-15 23:06:18