you report it! // public reports
Posted by:
veletron
at 17.38hrs on Fri 10th Feb 17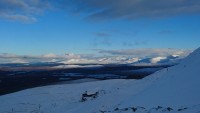 • View Photos •
:: Snow Cover
Limited Terrain Complete/Open.
:: Surface Conditions (out of 5)
3
:: Weather Conditions
Day of halves, persistent fog Am brightened up by 2PM sh. Zero wind vis was never too bad
:: Snow Conditions & Info
It's Glencoe so I knew there would be a few rocks about. The open runs were OK, once the weather improved doable with some speed., entances into the tops of runs were the most 'combaty'. Best run was skiers right of access poma next to fence. Skinned up towards top end of play, good run down happy Valley. Guys were trying to get a route from top of Cliffy patched up. First day of the season, and made the most of it for an enjoyable day overall.
:: Riders
Nigel and Lewis
:: E-Mail Contact
nigelmwebber at gmail dot com