you report it! // public reports
Posted by:
Guest at 16.02hrs on Wed 1st Apr 15
:: Snow Cover
No Snow
:: Surface Conditions (out of 5)
0
:: Weather Conditions
Heavy rain here!
:: Snow Conditions & Info
No snow!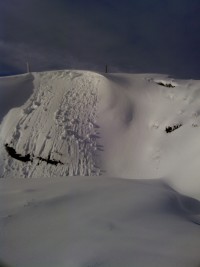 • View Photos •
:: Snow Cover
Most Terrain has Good Cover.
:: Surface Conditions (out of 5)
4
:: Weather Conditions
Some wind, dropping considerably as the day went on. Lovely light initially, with the sun breaking through thin clouds in the a.m. before giving up, as the cloud thickened later and flat light won out. The positive aspects of these two variables, travelling in opposite directions, combined with melt and traffic making the tow easier to ride, created a very pleasant hour of sliding just after we took lunch in the Mountain Restaurant.
:: Snow Conditions & Info
Lots of wind-blown powder and crusty snow dunes actually made it harder than usual to ride the lengthy rope tow but provided some fun bouncy carving.

Road from Alston passable with care and a fair amount of good fortune. Although some people opted for 4 wheel drives, chains or at least snow tyres. Return journey nearly all tarmac.

With both Weardale and Yad Moss restricting access to members, with the latter also prepared to admit those who hired kit locally, it was an easy choice for me today. Harwood remains a real Gem in English skiing. It is simple, marginal and not for the casual alpinista. A fantastic place to spend time, even on a bad day and today was not a bad day.

Many thanks to all the hard working people at Harwood who made today possible. What you did today has real worth and as ever is much appreciated.
:: Riders
30 - 50 members and grateful day guests including me and the Powder Puppy.
Report Edited Once. Last edited by Imsoboardwiththeewesa: 2013-01-26 22:07:47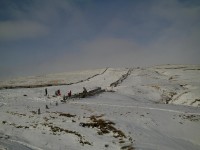 • View Photos •
:: Snow Cover
Limited Terrain Complete/Open.
:: Surface Conditions (out of 5)
3
:: Weather Conditions
WARM- Shame really as it was eating the recent snow falls. Some very nice sunny spells and no wind. Photo's should indicate how good the visibility was.
:: Snow Conditions & Info
As the rain came down in the T Valley yesterday and the boy Mclean glided through the snow in the Potteries. I had high hopes for today in any of the Alpine playgrounds of Northern England. As it turned out my expectations were not quite matched by reality but hey This is England (RIP Joe).
Not sure of where we were going today, even after covering a few miles. Decided to give the lovely family friendly Allenheads a miss because there was a massive thaw in the air and if we took the high road via Alston it would at least give us a couple of options. Kept driving past the Yad, there seemed to be people coming back down to their cars and there was more grass in view than at a Grateful Dead jamboree. Very happy with our choice of Harwood. Nice folk about and enough spring like snow to give us some fun. I even faired better on the rope toe than during previous visits even though the thaw left it very rutted later in the day, with the higher section closed off as more ground poked through. Many thanks to the lift team who did a great job of keeping things going.
ENDNOTES
Great visibility. No wind(WOW). No queues. Slided-it back down to the road. No damage to our kit ? except rupture of old Nordica Ski boots(You blow 5.50 on Ebay and it does'nt last) Roads very easy. Twenty quid well spent says me and the PowderPuppy.
MANY THANX to the Harwood Federation people. Your hard work made us very happy. We appreciate it.
:: Riders
Me and the PowderPuppy aka The SkiTruant plus another 20-40 happy souls
:: Snow Cover
Excellent Cover
:: Surface Conditions (out of 5)
5
:: Weather Conditions
Sunny and hot, no wind.
:: Snow Conditions & Info
Fantastic cover, largely unskied. Tonnes of potential for fresh tracks still. Looks good for the weekend.
:: Riders
Solo venture here, though a few people had been up on wednesday, judging by the tracks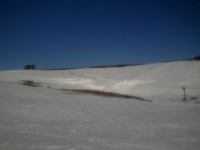 • View Photos •
:: Snow Cover
Most Terrain has Good Cover.
:: Surface Conditions (out of 5)
4
:: Weather Conditions
BEAUTIFUL

:: Snow Conditions & Info
Second visit to Harwood in just over a week and well worth the effort. Last Saturday's limited visibility replaced by clear blue skies and bright sunshine. Sadly snow is now more compacted hardstuff but still fantastic and offering some variety if you look for it. No waiting at lift, shame really as I seem to need a bit of time to prepare myself for each ascent - even with the innertube glove gripper. All in all a fantastic day's winter sport for the 20 or so riders and skiers on the hill and fantastic value for 10 quid. I know Blakes7 spent a lot of time fighting the evil Federation back in the 70s but the Harwood club were all super hospitable and good company. Long live the Federation.