you report it! // public reports
Posted by:
godders
at 19.28hrs on Sun 18th Jan 15
:: Snow Cover
Excellent Cover
:: Surface Conditions (out of 5)
5
:: Weather Conditions
Mixture, some light snow during the day and some clear sky periods - never unpleasant. Around -1 celsius for most of the day.
:: Snow Conditions & Info
Around 6 inches of fresh soft powdery snow, which compacted down to make for improving surface conditions throughout the day. All runs were complete, including the freestyle area. The beginners area and main slope both had wide and deep cover.
:: Riders
Godders & GG
Posted by:
paraffin
at 17.23hrs on Sat 17th Jan 15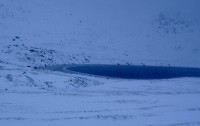 • View Photos •
:: Snow Cover
Limited Terrain Complete/Open.
:: Surface Conditions (out of 5)
4
:: Weather Conditions
Trip up to Red Tarn Hellvellyn.and Swirral Edge.Very blowy with limited viz
:: Snow Conditions & Info
2 ft of unconsolidated powder and grapule on top of verglas. Very slippy. Ride down the SE face of Catsycam back to beck bottom. Happy Days : -)
:: E-Mail Contact
davie dot sanderson at tesco dot net