touring & backcountry
Posted by:
Apex177
at 15.14hrs on Sun 18th Mar 18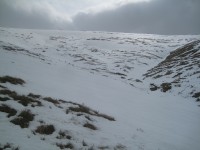 • View Photos •
:: Tour Route(s) or Location Skied/Ridden
Carlavin Hill and Molls Cleuch Dod from near Megget Stone East of Talla Reservoir.

The snow on the N facing Molls Cleuch was much more plentiful than on Broad Law to the north. The 1 in 5 road above Talla Linnfoots was still blocked with snow from two weeks ago. This has now been cleared. This was a nice little tour worth a return visit.

:: Weather Conditions
Dry 30mph wind
:: Snow Conditions and Distrubtion
Spring snow
:: Skiers/Riders
AS