Posted by:
tupp
at 20.22hrs on Mon 24th Dec 18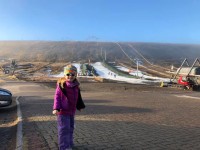 • View Photos •
:: Snow Cover
Limited Terrain Complete/Open.
:: Surface Conditions (out of 5)
3
:: Weather Conditions
Bright and cold
:: Snow Conditions & Info
The Wren and Robin were open and 3/4 of the park had snow cover. They were making a good base around the spinner in the Penguin park. It should be magic for wee ones once they open again.
:: Riders
Shona and Tupp