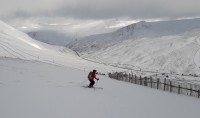 • View Photos •
:: Snow Cover
Limited Terrain Complete/Open.
:: Surface Conditions (out of 5)
2
:: Weather Conditions
Cloud cleared to blue sky and sun. +1C at car park level.
:: Snow Conditions & Info
Conditions varied from an inch or two and grassy to a foot or more, plus deeper drifts. Variable to say the least.
:: Riders
Mountainaddict and Mrs Mountainaddict
:: E-Mail Contact
alan dot crawford65 at gmail dot com