Posted by:
Skicadets
at 19.42hrs on Sun 20th Nov 16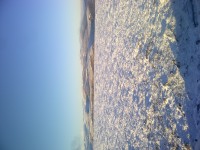 • View Photos •
:: Snow Cover
No Snow
:: Surface Conditions (out of 5)
0
:: Weather Conditions
Sunny, no cloud (cloud inversion below 1500ft ) FL: 600m approx
:: Snow Conditions & Info
Went hillwalking up Glen Prosen. Went up Hill of Strone (850m) and then 2 skicadets went down to the saddle and across to Driesh (947m). Spectacular views through out the journey. Sketchy cross country possible for the keen down the back of the Hill of Strone and on Dreish on certain aspects only do it with old planks because the is plenty of thin areas.
:: Riders
skicadets
:: E-Mail Contact
ianbloomfield007 at yahoo dot co dot uk