Posted by:
Skicadets
at 20.58hrs on Sat 12th Nov 16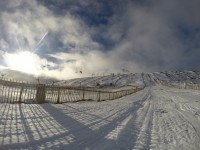 • View Photos •
:: Snow Cover
Limited Terrain Complete/Open.
:: Surface Conditions (out of 5)
3
:: Weather Conditions
Warm light westerly winds.
:: Snow Conditions & Info
Lifts were limited to the Chair,Eagle1,Magic carpet and the Buzzard. Snow was thin in areas were the piste basher had squashed it. Cover was thin and baseless.
:: Riders
skicadets
:: E-Mail Contact
ianbloomfield007 at yahoo dot co dot uk